The Walking Dead Season 2 Episode 11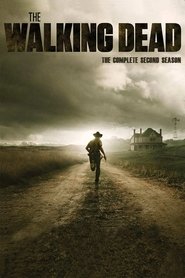 The Walking Dead Season 2 Episode 11
Rick sides with Shane causing Dale to worry that the group is losing its humanity; Carl's actions have unintended consequences.
Episode Title: Judge, Jury, Executioner
Air Date: 2012-03-04
Year: 2012
Eps208
How I Met Your Mother
How I Met Your Mother
How I Met Your Mother is an American sitcom that originally aired on CBS from September 19, 2005, to March 31, 2014. The series follows the main character, Ted Mosby,…
Status: Ended
Eps29
Man Seeking Woman
Man Seeking Woman
Josh Greenberg is a naive romantic on a desperate quest for love. When his longtime girlfriend dumps him, Josh enters the dating scene, a nightmarish hellscape of untold horror. Despite…
Status: Ended
Eps8
Miss Sherlock
Miss Sherlock
Sherlock has a peculiar character flaw. She does not open her heart to strangers. She is Japanese, but was born in Britain. She now works as an investigation consultant for…
Status: Returning Series
Eps39
Dark Matter
Dark Matter
The six-person crew of a derelict spaceship awakens from stasis in the farthest reaches of space. Their memories wiped clean, they have no recollection of who they are or how…
Status: Canceled
Eps6
Planet Earth II
Planet Earth II
David Attenborough presents a documentary series exploring how animals meet the challenges of surviving in the most iconic habitats on earth.
Status: Ended
Eps152
The Mentalist
The Mentalist
Patrick Jane, a former celebrity psychic medium, uses his razor sharp skills of observation and expertise at "reading" people to solve serious crimes with the California Bureau of Investigation.
Status: Ended
Eps6
Broken
Broken
Father Michael, a Catholic priest presiding over a Northern urban parish who is Modern, maverick, and reassuringly flawed; must be confidante, counselor and confessor to a congregation struggling to reconcile…
Status: Returning Series
For The People
For The People
Brand new lawyers work for both the defense and the prosecution as they handle the most high profile and high stakes cases in the country – all as their personal…
Status: Returning Series
Eps3
Ill Behaviour
Ill Behaviour
Comedy thriller about three friends who embark on a journey that takes them to the extremes of their friendship, crossing every boundary imaginable to save a life.
Status: Ended
Eps20
Wayward Pines
Wayward Pines
Imagine the perfect American town… beautiful homes, manicured lawns, children playing safely in the streets. Now imagine never being able to leave. You have no communication with the outside world….
Status: Canceled
God Friended Me
God Friended Me
A self-proclaimed "pesky atheist" is encouraged to help strangers by someone claiming to be God who friends him on Facebook.
Status: In Production
The Other Two
The Other Two
An aspiring actor and his sister Brooke, a former professional dancer, try to find their place in the world while wrestling with their feelings about their 13-year-old brother Chase's sudden…
Status: Returning Series